SHORT PLATFORM

LONG PLATFORM

ELECTRO-HYDRAULIC
LOW PROFILE SCISSOR LIFT
301LP
305LP
302LP.AS

302LP.AS-Automatic leveling with one button press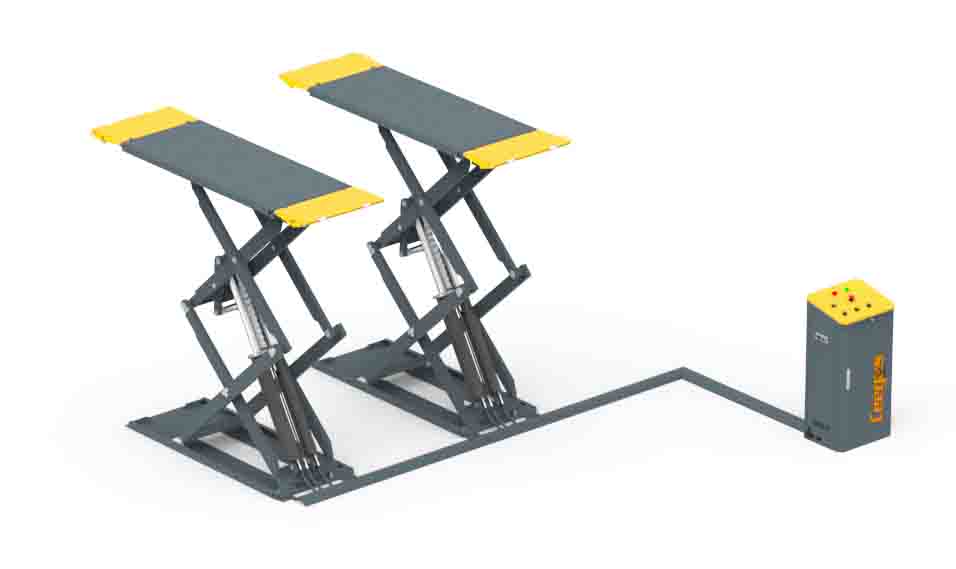 ● Ramps with support bracket as platform extensions.
● Low profile at 105mm and high-rise at 1900mm.
● Pneumatic security lock release.
● Twin-cylinder under each platform, reliable hydraulic line ensures synchronization and strong lifting.
● Built-in explosion-proof valve.
● Built-in grease-lubricating to pivot points.
Electric Control System for CE models:
● 24V low voltage control.
● Photo-cell monitoring kit for synchronization
monitoring (option).
● Electric foot-guard and up-limit switch.
● Beeping alert during descent process.






| | | | |
| --- | --- | --- | --- |
| | Model | 301LP / 305LP / 302LP.AS | |
| | Capacity | 3000 / 3500 / 3200 Kg | |
| | Min. Height | 105 mm | |
| | Max. Lifting Height | 1900 mm | |
| | Runway Length | 1495 mm | |
| | Runway Length with extension | 2035 mm | |
| | Runway Width | 616 mm | |
| | Distance between Runways | 800 mm | |
| | Air Supply | 6-7 kg/cm2 | |